Need Some Large Debris Removed?
Our Grapple Truck Can Handle All Your Big Debris And Trash Removal Needs
Grapple Truck Service For Debris Removal
Here at John Egart's Tree Service we believe in doing all we can to help local residents and businesses look their absolute best. At times, a grapple truck is needed to get rid of wood waste and yard debris. We would be happy to provide any necessary grapple hauling services. All our services are performed in a professional manner in the Denver CO area. We promise to adhere to all applicable laws, ordinances, rules, regulations, and permits. Trust that you are in the best hands when you hire us to handle your grapple truck services.
What is a grapple truck?
A grapple truck is a truck that has a grapple loader mounted to its frame which is used for loading and sometimes hauling bulky waste.
Our grapple hauling services can make your next project simpler and less of a burden. We can help with lot clearing, tree removal, and storm clean up. Grapple trucks are perfect for collecting both landscaping and tree debris.
We have more than 20 years of combined experience caring for trees, operating challenging machinery, and doing it all while creating lifelong customers. Trust John Egart's Tree Service for all your tree and grapple hauling needs in the Denver Colorado area.
Whether you are a homeowner, contractor or business owner, our grappler loader service can help simplify your next big project. From lot clearing to tree removal to storm clean up our grapple trucks can be used to collect landscaping and tree debris. The green waste will then be transported to our facility and recycled into a usable product.
Testimonial:

That truck is awesome! They came by to pick up some very large debris from our yard and made it look easy. They left the site clean and did a great job. I highly recommend John and his grapple truck service!
James H, Denver CO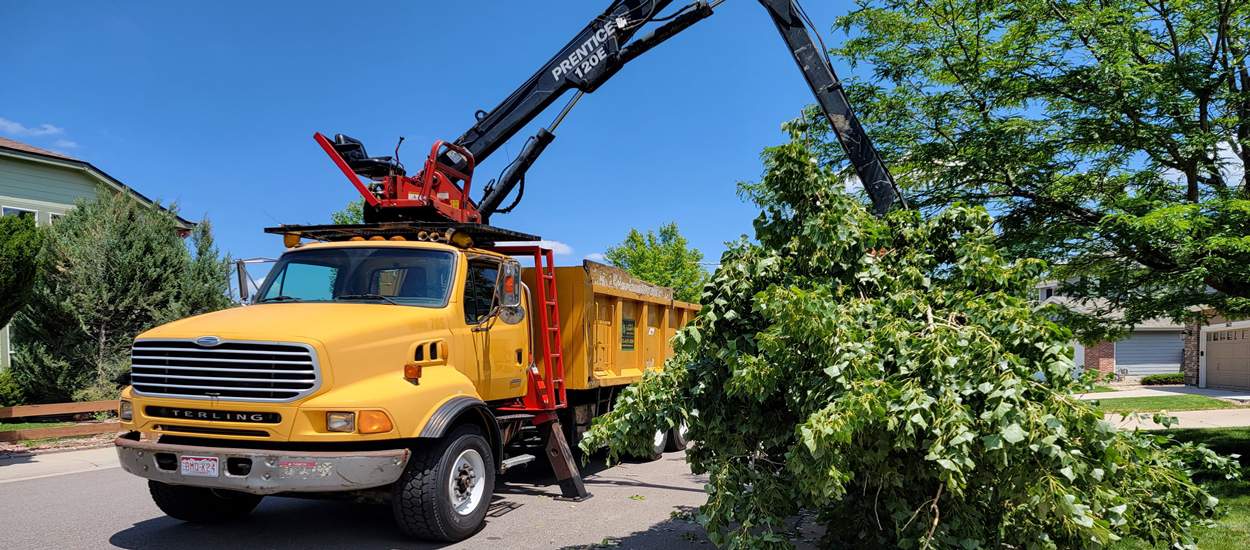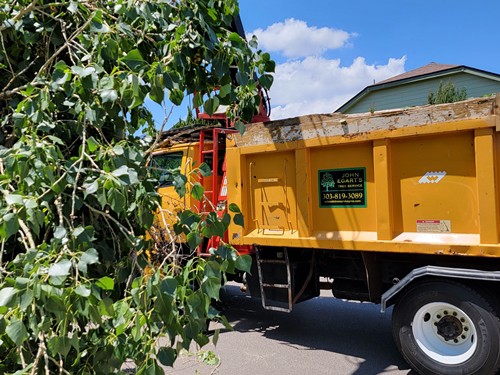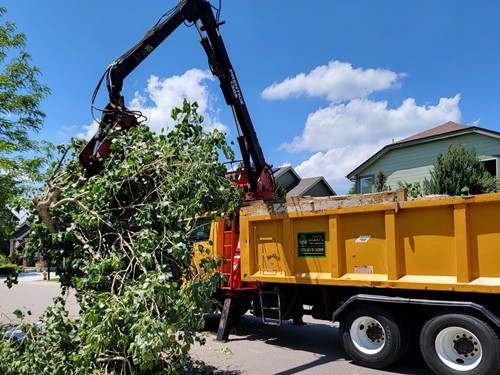 Environmentally Friendly:
With experienced and trained operators we can execute a pick up in a precise and professional time frame. John Egart's Tree Service is an environmentally cautious company that strives at leaving a small carbon footprint and a green mentality. With that said this is the reason why we use large capacity trucks to reduce the load counts saving our customers money.
Disaster Recovery:
We are disaster recovery experts. We pride ourselves in being able to remove debris in a thorough and professional manner with our dependable grapple trucks. Grapple trucks can be an essential part of storm recovery for clearing roads, public right of ways and private property. In the event that a disaster may occur we are on call 24 hours a day 7 days a week.
Vegetation Removal
We offer year round landscape debris pickup and disposal services. Providing service to many of Denver Colorado's landscaping companies, municipalities, communities and homeowners.
Disaster Relief
Our experience allows us to handle this sensitive time period quickly and without adding any additional stress. Our grapple truck, equipped with a dump body and boom allows for high volume clean up. We can guarantee timely and cost effective solutions to all of your debris removal needs.
Construction Debris Removal
We selected a grapple truck designed to have the capability to remove construction debris from any job site. Count on our grapple truck service to leave the job site clean and make your cleanup easy.
Land Clearing
We are land clearing experts with decades of experience. We can organize your free estimate as well as the scheduling all of your land clearing needs all at once. We have superior skill level and thorough training, great attention to detail, proficient safety skills, and unbeatable efficiency and reliability.
How much does grapple truck service cost? Debris and junk removal costs vary depending on a number of factors:
The type of debris.
The size of the debris.
How accessible is the debris.
Call us or get a free estimate through our website contact page for all your grapple truck service needs and questions.
We provide the best grapple truck services in Aurora, Boulder, Centennial, Denver, Arvada, Littleton, Wheat Ridge, Colorado and surrounding areas at the most competitive prices in town. When you need debris removed call on us to get the job done right. No job too big or too small.